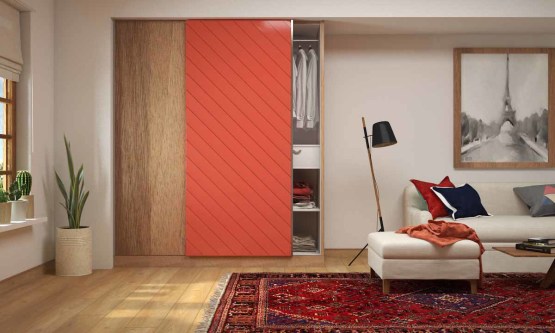 Sliding-folding wardrobes doors are a type of closet where the shutter opens and folds, sliding to one side. These doors may or may not be lockable and are available in a wide variety of colors and designs. A sliding door stylish wardrobe is ideal if there is enough room to allow access to it. This type of furniture can be personalized in terms of color, design, and finish. When choosing a door design for your wardrobe, make sure it suits the interiors, lifestyle, and taste, along with the rest of the furniture in your bedroom. Each type of door wardrobe brings its own style, giving you a unique and customizable solution for your home. Wardrobes or sliding cupboards are important furniture for the bedroom. They not only embellish your bedroom furniture, but also have a decent amount of storage space to organize your clothing, shoes, and beauty essentials. Some of the wardrobes also feature a shoe storage compartment. If you're someone who doesn't like opening and closing doors, the doors of the sliding wardrobe will be your comfort.
At Punjab Modular Kitchen, you'll find a mix of sleek and modern styles for bedroom sliding wardrobes. These designs are ideally suited to any modern or modern type of decoration. You can also style your mid-century or transitional decor with these sliding almirahs. In fact, our range of sliding door wardrobes come in a wide array of color choices and paneling. Punjab Modular Kitchen manufactures the very best sliding wardrobe doors in the India. Every door is fitted with wheels to make sure they slide perfectly every time. The mechanism also comes with years of warranty.
I am extremely happy that my dream of owning the best kitchen has been achieved with these guys. For me kitchen is not just a cooking space but an everyday part of my family area. Thank you punjabmodularkitchen for understanding my lifestyle needs and converting my dream into a reality.
We are very happy with such a wonderful kitchen. Thank you punjab modular kitchen for installing a beautiful kitchen at our home. You have exceeded our expectations. All your workers have worked hard a spend a lot of time on this. Now finally we have achieved the look we wanted. Thank you so much.
On behalf of ourselves and our builder, we would just like to congratulate punjabmodularkitchen at doing a brilliant job at our home. Our builder commented how organized and professional your installers were when they were on site. We love our new sliding doors and the opening it gives onto the back garden. Our friends and family have all commented on how great they are. Thanks again