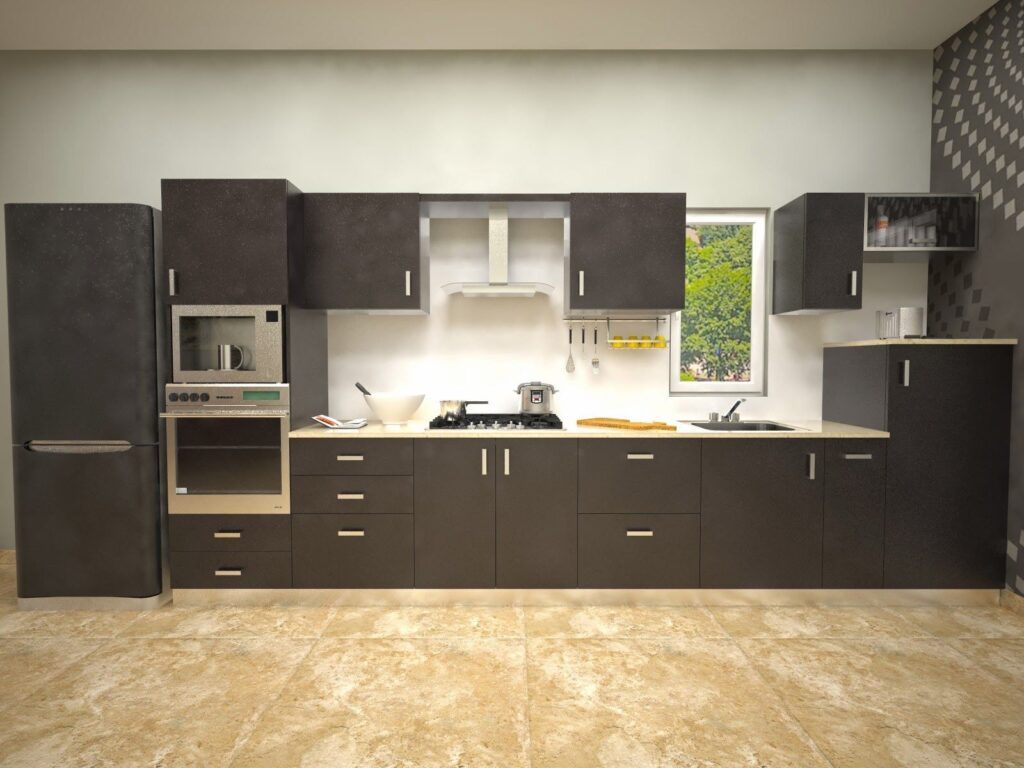 An overall Straight kitchen configuration follows a solitary divider kitchen design with a counter space on the two sides of the cooking range. Straight Kitchens are basically implied for a little kitchen region. We can add certain component to a straight kitchen configuration including capacity cupboards above and underneath. Such straight kitchen plans would give simple admittance to kitchen machines and ordinary arrangements. You can fix a direct game plan of bedroom set and cupboards fixed at the lower level, which are upheld by cupboards on top to store earthenware and regular cooking basics, such a course of action for any straight kitchen configuration will coordinate to address the issues of any client.
Punjab Modular Kitchen has various creator straight kitchen plans, which will give all you require at space. Most appropriate for the restricted space of a studio loft, the straight kitchen configuration is an agreeable alternative for a cleaned up kitchen region which can without much of a stretch be changed over to add a smaller feasting space.
I am extremely happy that my dream of owning the best kitchen has been achieved with these guys. For me kitchen is not just a cooking space but an everyday part of my family area. Thank you punjabmodularkitchen for understanding my lifestyle needs and converting my dream into a reality.
We are very happy with such a wonderful kitchen. Thank you punjab modular kitchen for installing a beautiful kitchen at our home. You have exceeded our expectations. All your workers have worked hard a spend a lot of time on this. Now finally we have achieved the look we wanted. Thank you so much.
On behalf of ourselves and our builder, we would just like to congratulate punjabmodularkitchen at doing a brilliant job at our home. Our builder commented how organized and professional your installers were when they were on site. We love our new sliding doors and the opening it gives onto the back garden. Our friends and family have all commented on how great they are. Thanks again